Pete Ashworth's Outlaw-Anglia testing in Malta
By Holger Camilleri, Malta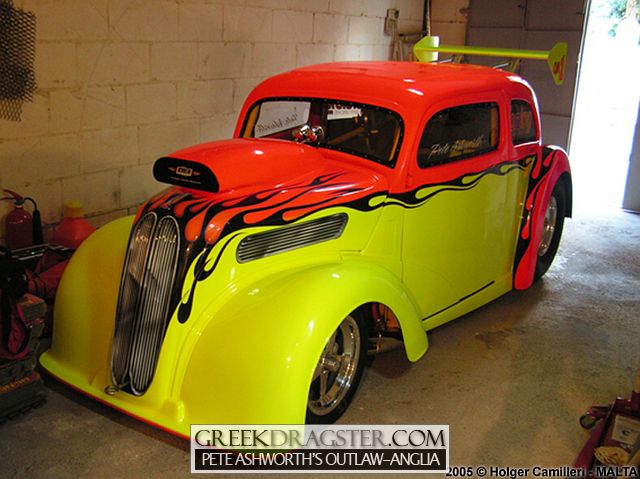 Launched in October 2005, the brand new Dayglow Twister 4 build by Andy Robinson Race Cars, UK.
Photo: Holger Camilleri (www.greekdragster.com)
ΠΕΡΙΣΣΟΤΕΡΕΣ ΦΩΤΟΓΡΑΦΙΕΣ - MORE PHOTOS
Peter Ashworth, the English driver will be testing his newly built Outlaw-Anglia, during next the Malta Drag Racing Association's quarter mile event being held between November 25 and 27. This event will be the last event of the 2005 season.
Ashowrth's career in racing doorslammers is quite long. This goes back to 1993 when he made his debut with a Red Ford Anglia, named Dayglo Twister 1. This event was a very important one for the 'Anglia lovers', especially this event which was the first one under the name of Outlaw-Anglia, which was founded by chassis builder Bob Nixon of Essex, UK.
Many where the spectators who attended the events which where of great attraction, with side-by-side burnouts, wheels up, and what about the thundering sounds of V8s!! Some synonymous names at that time were Paul Wright, Pete Ashworth, Danny Cockerill, Tomy Bakers, and Andy Carter. Yes, that's right Andy Carter, the European Top Fuel Dragster Champion.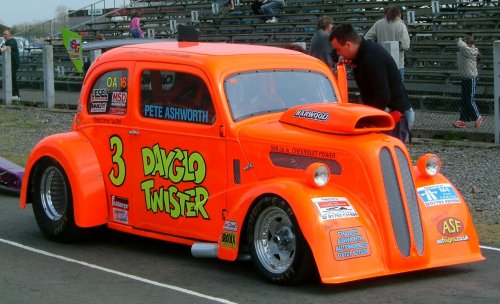 With the Dayglo Twister 3 was the second runner-up of the 2003 Outlaw-Anglia championship.
Photo: Paul Wright (www.outlaw-anglia.co.uk)
The first champion being crowed was Cockerill taking the winning spot from Bakers and all the respective contenders. This triggered vast interest and many where the competitors who built a new vehicle specifically for the track, with a lighter chassis and body, and with more powerful engines.
The year after exactly in September, with great satisfaction to the Outlaw-Anglia Class, Andy Carter registered an astonishing run of 7.57 seconds at 181 mph with a Red Anglia built by him self powered by a 500ci Keith Black V8 engine. Carter managed to build a powerful and rigid car that qualified the class regulations that restrict the participants not to go over the 101inch wheelbase and has to be obviously a Ford Anglia, Popular, Fordson or Prefect. After that year Carter switched to Top Fuel Dragsters and as we can see, he is doing quit well!
Back to Ashworth in 1995, the Brit decided to stop racing and dedicate most of his time to building a faster car with a better engine, with the final ambition of heading the class and breaking his personal records. Pete returned to back to his steering wheel in 2003 with a brand new Dayglo Twister 3, and with the aim to be a winner.


The Outlaw-Anglia was born in 1993. Avon Park Raceway, or as it is named now Shakespeare County Raceway.
Photo: Paul Wright (www.outlaw-anglia.co.uk)
The doorslammer, a Modified Ford Popular 100" wheelbase was equipped with a Big Block 509 Chevy V8 engine, a Power glide Transmission on a Steel Chassis. As for fuel, the engine drunk C16 VP Fuel with a Nitrous tonic! This was Ashworth's best car ever, with the first year ranking the second at the end of the championship after Paul Hensher's Gas Attack.
A rewarding season was in 2004. Still running the Dayglow Twister 3, Ashworth registered impressive times of in the 8.90sec area in the NSRA Nostalgia Nationals and Hot Rod Drags. But the most pleasing honour was when being crowned as the 2004 RealSteel Outlaw-Anglia Champion with 350 points ahead of runner-up Paul Hensher with 2050 points.
With the enthusiasm still running into Ashworth, he has entered a more ambitious project. Pete has commissioned the famous chassis builders at Andy Robinson Race Cars to build a new Chrome-Molly chassis with the target to lighten the vehicle and to suite the modifications done on his previous body. Without any doubt this will be bearing the name of Dayglo Twister 4.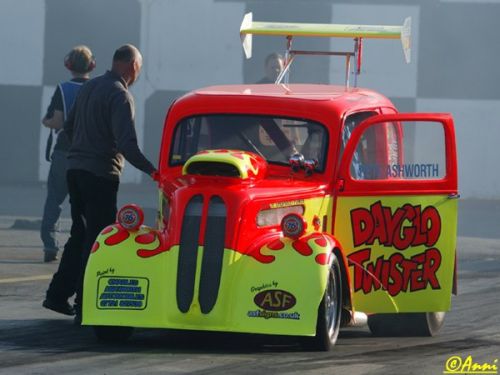 The winning one. With the forth Dayglo Twister, Ashworth achieved the winning sport and was crowned 2004 RealSteel Outlaw-Anglia Champion.
Photo: Anne Valder (www.outlaw-anglia.co.uk)
The chassis was fitted with a Chevrolet 509c.i. V8 Big Block engine, which is run on C-16 VP Racing Fuel, was built by Auto Shop Racing Engines of USA. Two Barry Grant fuel pumps were adopted to enhance the fuel delivery system. To boost up the engine a progressive type NOS cheater plate nitrous system, with a 400hp shot was installed. Turbo Matic of US customised the two-speed Powerglide transmission. A Mark Williams rear-end differential was installed and complemented with a set of Weld front and rear wheels on Mickey Thompson Drag Slicks.
While talking to Ashworth and crew chief Alan Aims a week before the event I could see that they were really impressed with the quality of the track facilities and surface in Malta. Ashworth said "Hal-Far Raceway is a really good track. This is over all, having good access to the track through the pit area, the return lane is also very good." "Due to these reasons it will be safer for me to test the Anglia at full power including also the Nitrous system".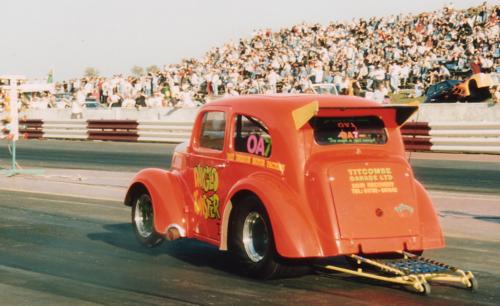 Pete Ashworth's second Dayglo Twister at Avon Park.
Photo: Paul Wright (www.outlaw-anglia.co.uk)
For Malta this is good news. As it seems that Peter Ashworth really likes this track and for sure he will name it the other Outlaw-Anglia competitors, and who knows maybe, it will be the turn for an Anglia invasion.
Pete Ashworth would like to thank to his sponsors for their support, which are: Charles Acworth's auto paint, Nigal Hanan of Scorpion Engineering who provided an adequate transport for the doorslammer, Tom Gallagher of M4 van centre, Prolong oils, and Express Trailers Malta for all the paper work and logistic arraignments.
A big thankyou goes to Paul Wright who gave us the permission to use some photos from www.outlaw-anglia.co.uk, and to Pete Ashworth for providing us with all the requested information. More information about Ashworth's testing in Malta will be posted, so keep in touch!!!
Feature by Holger Camilleri
Photos: Holger Camilleri and www.outlaw-anglia.co.uk