Toyota Supra Dragster - Mibrum Racing Team
By Holger Camilleri, Malta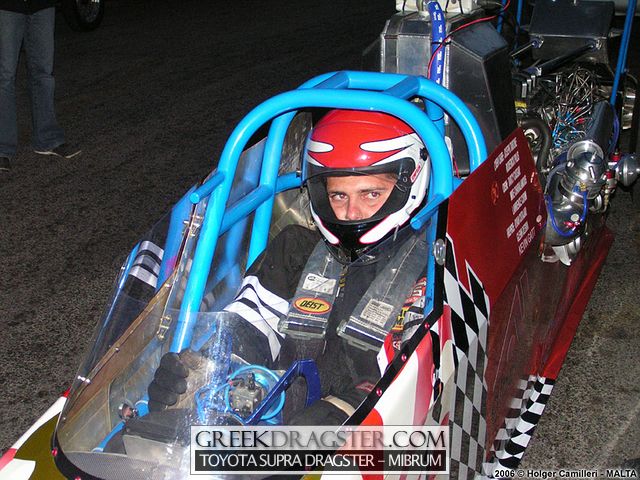 ΠΕΡΙΣΣΟΤΕΡΕΣ ΦΩΤΟΓΡΑΦΙΕΣ - MORE PHOTOS
VIDEO #1 - VIDEO #2
Once again, Mike Charalambous of JMC Power Automotive, Cyprus was in Malta tuning the Mibrum Racing Team's Supra Dragster during a Malta Drag Racing Association event. This was held between April 28 and 30 at the well renowned Hal-Far Raceway. Charalambous was in Malta for five days of hard work. "Tuning the Supra is not an easy job!" Mike said.
Meeting at the garage in Gudja, Mike met with the rest of the team, with crew chief Joseph Tabone and with owner/driver Gary Curmi. Here the engine was fired up, and some high-tech sensors were also installed. They will assist in taking accurate readings of the engine's performance.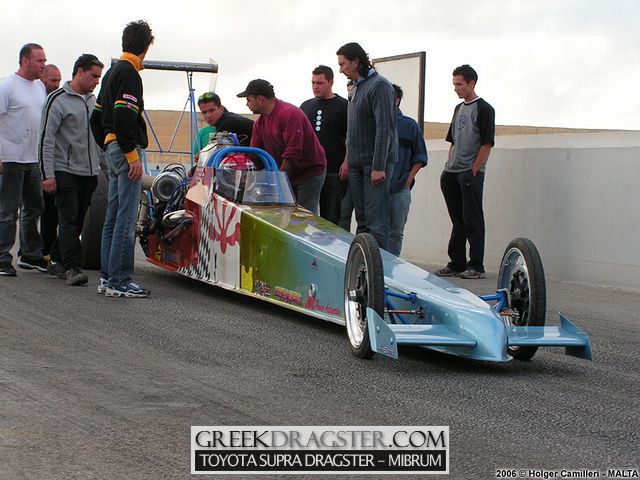 The testing began on Friday. From the first runs it looked that this will be a successful weekend! The readings showed that everything was working perfectly, and all settings were within their parameters. While having a few words with Mike he said "After some runs with various ECU settings, I am very satisfied with the engine's performance. Although we ran it at very low power, now we can leave it for tomorrow. Having the track with grip-juice, will be perfect to start running with 10 to 17psi of boost".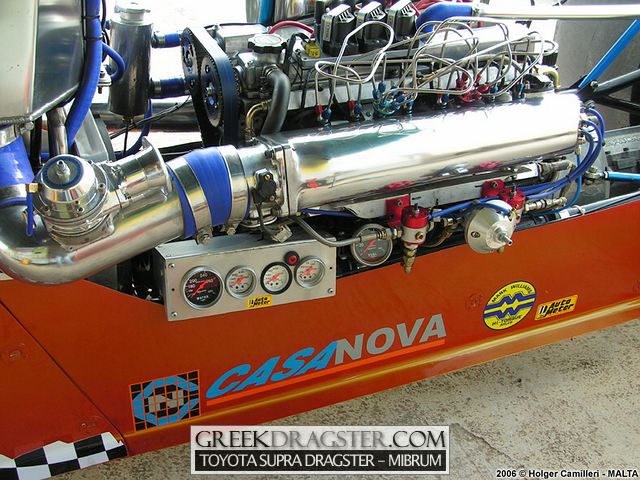 While taking a few comments from Joseph Tabone about the Toyota Supra, he explained that "The turbo is a custom made Turbonetics Y2K T88 (and that's quite large!), and obviously very high revs are needed for the car to benefit from it's power. This turbo can support up to 1,500hp of power! Having the Supra pumping all that power fits well with our needs,! Obviously it will help us reach our target in touching the low 7s!"
Friday was the 'power run day'. After a few runs mainly for observation purposes, it was the turn for a 17psi run. After performing a burnout, Gary clocked an elapsed time of 8.7sec. Although there was some clutch slippage and tyre spinning I have to say that it was a very good run. Seeing that this was the first power run, overall it was a very successful one. On Saturday the testing continued. The best times during the test sessions were: Best 60 feet: 1.12sec, Best top speed: 174.95 Mph, and best Elapsed time of 8.2sec.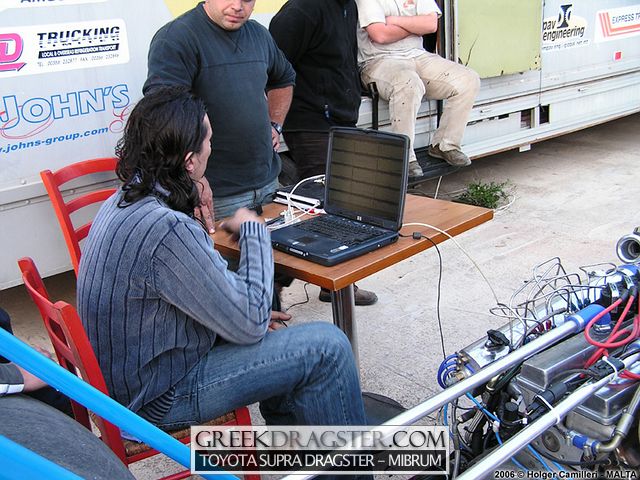 After the event was over I had a couple of words with driver/owner Gary Curmi to get his comments. "I can't wait for the July event! It's a new atmosphere driving so close to the ground and feeling all that speed so close to you" he said. Commenting about his future prospects he said "after the engine has been tuned to its best and all the boost utilised, it will be the turn to install the NOS system that will give a dramatic power push to the dragster enabling it hopefully to touch the high 6 seconds. Having a potential sponsor will make it enjoyable to race abroad. Also I would like to perform some exhibition runs in Greece!"
Gary Curmi would like to convey his thanks to his sponsors: Mibrum Auto Dealer, Casanova, JMC PowerAutomotive, Total Oils, Cat Cams, Alberta. He would also like to thank the helpers at the Sieheb Racing Team's garage and most especially Joseph Tabone and Rodrick Pulis.
Article by Holger Camilleri, MALTA
Photos by Holger Camilleri, MALTA