New Supra world record by Malta's Mibrum Racing Team
By Holger Camilleri, MALTA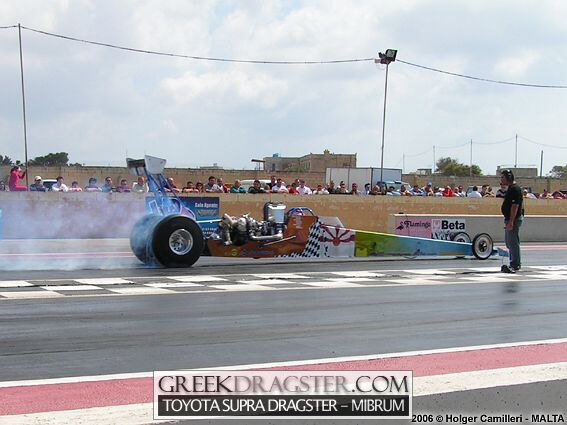 VIDEO 7,8 secs - VIDEO 7,4 secs
So, another record to be written down in the JMC Automotive's 'Hall of Fame', this time in Malta! Yes it's the Toyota Supra 7MGTE Dragster owned and driven by Gary Curmi of Mibrum Racing Team. Not only is it a record for tuner Mike Charalambous and Joseph Tabone of Sieheb Racing but it's a World Record in the 7MGTE area.
Gary pushed his dragster to an impressive Elapsed Time of 7.44 seconds at 178.37Mph. Also noting a very good 60ft of 1.09sec, well done Gary!! This was established at Hal-Far Raceway, Malta during the Malta Drag Racing Association's quarter-mile event organised between December 1 and 3. It's correct to say that the world record was snatched from HKS who had registered a 7.6sec run but assisted with Nitrous. The record established in Malta is of 7.44sec with NO USE OF NITROS and so it makes Malta together with JMC Power Automotive holders of the World 7MGTE Supra record.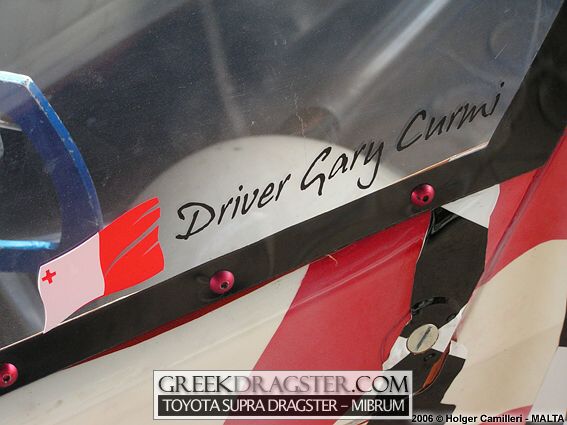 While speaking with JMC Power Automotive's Mike Charalambous about the engine's 'secrets' and 'hidden treasures' he provided me with very interesting specifications. An extremely confident Mike said "OK so let's start with one of the most important items that you can find on this beast, the ECU. We use an Electromotive TEC3-R Engine Management System, that is basically one of the best found on the market. It has the ability to collect data of each run (data logging) which helps me a lot in taking accurate engine readings. Its unique processing system consists of 5 processors of 32bit each; every processor has its own job, which enables the whole system to work faster, more efficiently and obviously more precisely. This ECU is not like the others on the market which use one processor for all, this one has 5!!".
Charalambous added "The hidden card of the TEC3-R is the powerful ignition system. It produces a strong long duration spark, which will burn long enough to fire the VP N02 octane fuel. It also helps producing high rev, high turbo boost and also with it come to use the Nitrous system". Mike emphasised that having such data logging and 'commanding' the engine's behaviour he is able to pass on critical information to driver Gary, who needs to know such details when it comes to stage and run. "The only difficulties I find in tuning the TEC3-R, is that it's installed on a Dragster and evidently it's not possible to set and tune during the actual run" Mike remarked.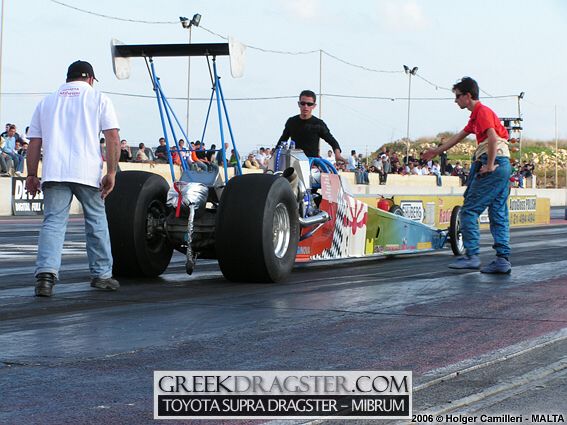 As for power enhancing, mechanic Joseph 'Sieheb' Tabone could not go for a better choice then the Turbonetics Y2K T88 ceramic ball bearing turbo. "Utilising such a powerful turbo, we need very high revs, and a 6 cylinder engine is very capable of producing them" Tabone said, while adding that for the record breaking run, the engine was run with 39psi of Turbo Boost. Quite a low boost when compared with the 45-50psi planned for future runs.
But all gold has to pass through fire. Engine builder Joseph Tabone remarked that due the very high power that the Supra 7MGTE is pumping, driver Gary Curmi is experiencing problems with the 7 inch adjustable clutch such as very hard slippage. Changing the Supra's performance by adding more boost and adjusting the timing after launching caused some trouble when Gary came to shift into 3rd gear. Although suffering from such problems he clocked 7.86sec ET, 1.05 60ft and a top speed of 135mph
With a smile Gary said "Don't worry! It's almost problem solved, a much better clutch is on the way to Malta. We have invested in a much more powerful one: it's Titanium components shall absorb the power, and then I'll leave it in Joseph's hands for his high tech tune-ups!!"
Last but not least, Mike stated "A good run is not a one man job… it's team work! From the crew member who fills up the Charge Cooler with ice, the parachute man, mechanic, tuner, driver, every one had a fine touch in this record breaking run." "I would like to congratulate myself with Joseph Tabone of Sieheb Racing Team for the brilliant job done on the engine, there were absolutely no problems at all with the Supra and we had been givin' it some good passes in the last races!!" Mike said.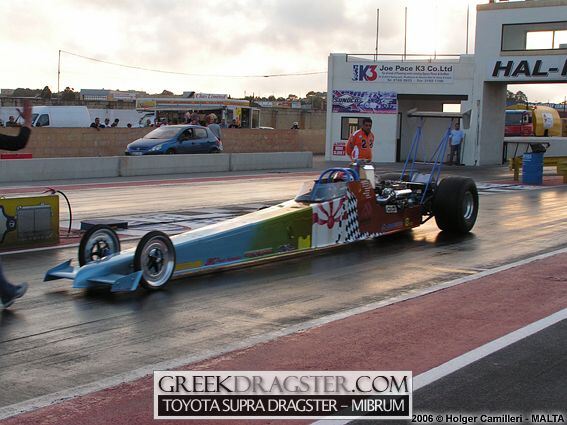 The last words where left to owner and driver Gary Curmi who was truly satisfied with the work done by the team "It's simply impressive, it's a world record mate and the feeling is wonderful! Hey and that's made in Malta!! I would like to thank Joseph Tabone, Mike Charalambous for their great jobs, the crew for their non-stop support, and also my family. Thanks also greekdragster.com for keeping the updates on". "Now it's off for next season, hoping it will continue in this year's successful steps and hopefully make more and more records!" a very confident record breaker said. Well done!
The team won't be a winning one without the help of these sponsors: Casanova, Cat Cams, JMC Power Automotive, Total Oils, Thomas Smith Frieght, Ray Franks Clutches, Alberta Fire & security and Sieheb Garage. A big thankyou goes to the crew: Joseph Tabone, Tarcy Cassar, Karim Cassar, Ryan Pisani, Kevin Gatt, Sandro Mamo, Glenn Desira, Lawrence Curmi who have done a very good job buring the event.
A new website is being constructed and can be viewed on: http://ict.mcast.edu.mt/ictweb/glendesi/allframe.htm
ΣΧΟΛΙΑΣΤΕ ΤΟ ΑΡΘΡΟ ΑΥΤΟ - COMMENT ON THIS ARTICLE
Article by Holger Camilleri, MALTA
Photos and Videos by Holger Camilleri, MALTA