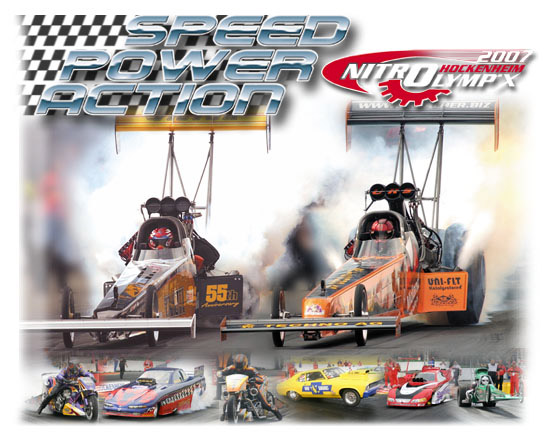 Ο καλός μας φίλος κύριος Οδυσσέας Γραμματικόπουλος, επικοινώνησε μαζί μας και φέτος για να μας μεταφέρει τις εντυπώσεις του από τους NitrolympX 2007:
"Συνεπής καί πάλι, μετά τήν επιστροφή μας από τό NitrOlympix2007 πού έγινε στό Hockenheim εδώ στήν Γερμανία, μάς έμειναν καλές καί κακές αναμνήσεις." αναφέρει ο κύριος Οδυσσέας και συνεχίζει: "Καλές γιατί, ήταν ένα Σαββατοκύριακο γεμάτο δράση καί γκάζια, κακές γιατί δυστυχώς δεν υπήρχαν Ελληνικές συμμετοχές. Αρκετοί αγωνιζόμενοι τού Ευρωπαικού χώρου, μέ ρωτούσαν, τί εγινε καί δεν ήρθαν φέτος Ελληνες όπως σχεδόν κάθε χρόνο τα τελευταία 5 χρόνια.
Λίγα λόγια για τον αγώνα: Πρώτον, παρά το ότι φέτος ο αγώνας δεν μετρούσε για το Ευρωπαικό πρωτάθλημα, σχεδών όλες οι δυνατές Ευρωπαικές ομάδες ήταν παρούσες εδώ, να δοκημάσουν τίς δυνατότητές τους, προσφέροντας πλούσιο θέαμα στούς χιλιάδες θεατές και φέτος. Ο καιρός ήταν φανταστικός και βοήθησε στήν τέλεια οργάνωση τού αγώνα. Του χρόνου μάλλον θα μετράει στό Ευρωπαικό πρωτάθλημα, μια και όλοι οι αγωνιζόμενοι έμειναν ευχαριστημένοι από την οργάνωση καί την κατάσταση τής πίστας. Η πίστα είναι μία από τις καλύτερες στό κόσμο, προδιαγραφών NHRA.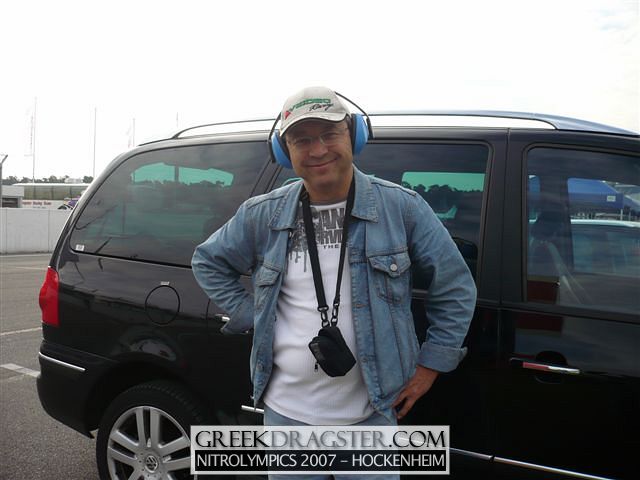 Εμείς,δηλ. ο γιος μου κι εγώ, τιμήσαμε και πάλι τα Ελληνικά χρώματα, κρατώντας την Ελληνική σημαία καθόλη τήν διάρκεια του αγώνα, και ας μην υπήρχαν Ελληνικές συμμετοχές. Είναι πολύ κρίμα που δεν συμμετείχαν οι Α.Ζαφειριάδης, Σ.Σβραχνός, Χ.Μπουσίνης και άλοι, γιατί στην κατηγορία τους Pro-Bike δεν υπήρχαν καί τόσο δυνατοί αντίπαλοι. Συνεπώς θα υπήρχε δυνατότητα να κερδίσουν τις πρώτες θέσεις με καλό χρηματικό έπαθλο και θα γραφόντουσαν στην Ιστορία του NitrOlympix Dragracing-Festival."
Ευχαριστούμε πολύ τον κύριο Οδυσσέα για άλλη μια φορά για την ενημέρωση και τις φωτογραφίες που μας έστειλε! Τα αποτελέσματα στις διάφορες κατηγορίες μπορείτε να τα δείτε στό http://www.nitrolympics.de/2007/mainframe.html
Ακολουθεί το δελτίο τύπου των NitrolympX 2007 όπως δημοσιεύτηκε στο eurodragster.com.
"NitrolympX 2007 press release.

"Speed, Power and Action" was the motto of the 22nd NitrolympX on 17th-19th August at the Hockenheimring in Baden-Wόrttemberg, a slogan which could not have been more perfect for a weekend full of records, spectacular races and numerous breath-taking show and stunt acts. More than 50,000 spectators watched 183 teams in thirteen race classes presenting exciting motorsports and excellent entertainment for three days with their machines of up to 6,000 hp.

Lots of spectators were already at the Ring on Friday and the day was as usual filled with exciting Sportsman qualifying rounds. The smooth flow of the programme and good weather left everyone, racing or watching, in a good mood. Racers reported that the track preparation was excellent and many were able to beat their personal bests. There was a spectacular 6.6-second side-by-side-run during free practice for the Nitro Bikes, when Swiss Lo Stauble and German Gόnther Sohn shot down the quarter mile in a formation flight.

On Saturday most NitrolympX visitors waited, along with more qualifying and the first eliminations, mainly for the latest edition of the Nightshow. The two-hour programme offered everything a real drag racing fan could wish for: lots of action and high speed, smoking tyres, spraying sparks and metre-high flames, exciting stunts and most of all a really perfect show. The opening was a Hot Rod parade, very nice cars built in 1932, a tribute to the 75-year jubilee of the race track.

After that the rate of the show visibly increased, with one attraction chasing the next. Various stunts with quads and motorcycles, the spark-spraying Wheelie Corvette of Ronnie Picardo from England and a jet-powered Bobby Car created the set-up for the spectacular outing of the Top Fuel Dragsters, the top class of drag racing. Having once experienced them, no-one will forget how these ten metre long monsters shoot into the dark, side by side, lit only by their three metre long exhaust flames, and how their 6,000 hp engines made the grandstands tremble!

Nightshow visitors who thought this was the zenith of the show had something to learn, when France's Eric Teboul set an unbelievable bike world record. With his self-developed and unique rocket-bike he achieved a record time of 5.562 seconds for the quarter mile which topped his old best by 5/1000 sec. The bike, containing the steering jets of an Apollo Saturn 5 rocket, is powered by hydrogen peroxide. During the record run a top speed of 473.7 kmh was reached!


Sunday was again totally filled by competition. The eliminations offered the enthusiastic visitors exciting duels in all race classes. Big applause also accompanied the appearance of a crew member of Finnish Top Fuel Dragster pilot Jari Halinen. Normally crew members do their work relatively free of spectator interest. Except if your name is Janne Ahonen, you are multiple ski jumping world champion, and the most successful ski jumper of your generation. Ahonen, an experienced drag racer, also did a motor warm-up on Sunday afternoon, when he presented his new Top Fuel Dragster to the press and the visitors of NitrolympX. The Top Fuel Challenge 2008 is on his list.

A special attraction for the visitors was also the lottery "Ride of your Life", where you could win the most-wanted seat in Rico Anthes' one and only Top Fuel Taxi. Every visitor holding a weekend ticket could participate in the lottery. Around midday the happy winner was drawn, and so at 15:15 it got serious for 41-year-old Volker S. from Weiterstadt who had one of his biggest wishes fulfilled. With the unique ride along Hockenheim drag strip he experienced maybe the most unforgettable moment of his life! Because of the enthusiasm of the spectators and their numerous entries, organiser Rico Anthes decided spontaneously to repeat this lottery at the NitrolympX 2008."
Το άρθρο αναδημοσιεύεται μετά από άδεια από το (c) eurodragster.com.