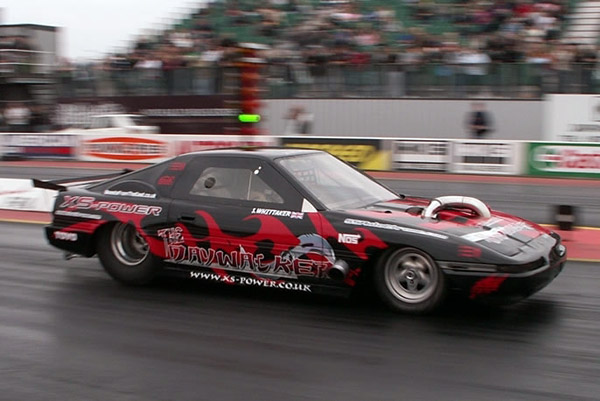 Φωτογραφία από το eurodragter.com
Νέα Βρετανικά Ρεκόρ στον Τελικό των Japanese Cars Show.
Εξαιρετικές επιδόσεις και Νέα Ρεκόρ Αγγλίας καταγράφηκαν στον Τελικό των Japanese Cars στη Santa Pod.
Στα FWD το νέο ρεκόρ κατέχει ο Scott Whitelaw με 10,691 δευτ @ 137,27 μ.α.ω.
Στα 4WD το νέο ανεπίσημο ρεκόρ κατέχει ο Andy Barnes με 8,271 deyt @ 164,90 μ.α.ω. και λέμε ανεπίσημο γιατί δεν μπόρεσε να το επαναλάβει με απόκλιση 1% στον ίδιο αγώνα. Το τελευταίο είναι απαραίτητη προϋπόθεση για να αναγνωριστεί ένα νέο ρεκόρ στο εξωτερικό, σύμφωνα με τους κανονισμούς της MSA.
Στα RWD το νέο, επίσης ανεπίσημο, ρεκόρ κατέχει ο Steve Whittaker (φωτογραφία επάνω) με 8,013 δευτ @ 173,14 μ.α.ω.
Απολαύστε και το βίντεο του ρεκόρ του Andy Barnes που μας έστειλε φίλος μας.
New UK Records set at JapShow Finale - © eurodragster.com
10th October: It almost comes as no surprise to find that the boundaries of drag racing with Japanese cars have been pushed back once again after a storming weekend at the JapShow Finale at Santa Pod Raceway, writes Rick Cuthbert of Santa Pod Raceway. Records were being observed for Front Wheel Drive, Four Wheel Drive and Rear Wheel drive Japanese cars, and all three were smashed in dramatic style.
Scott Whitelaw ran a new UK FWD record for a Japanese car in his CPL Racing Honda Civic Type R of 10.691 seconds and 137.27mph, backing up his personal best and beating Paul Jones' record which stood for just one week.
Andy Barnes ran a new UK 4WD record in his Sumo Power Nissan Skyline R33 GTR of 8.408 seconds and 162.48mph. Andy ran a personal best of 8.271@164.90 but failed to back it up to 1% for the record. This is an outright record for any 4WD car in the UK.
Steve Whittaker (pictured, right) ran a new UK RWD record for a Japanese car in his XS Power Toyota Supra, which ran a record pass of 8.389 seconds, and a record speed of 168.61mph. Steve also ran an 8.013 second pass and one with a terminal speed of 173.14mph but failed to back up either to within 1%.
All records stated are backed-up to within 1% at the same event in accordance with MSA regulations.